This is my review of the Vivere double hammock (with stand). I'll be honest though. I am a little biased because I really like it and I own this free standing hammock myself.
By the way, I sleep in this hammock every night. I've used it an an indoor hammock as well as outside. So, when I talk about how sleeping in a hammock relieves my back pain and helps me wake up feeling rested, this is the one I am talking about.
Is This Your First Sleeping Hammock?
If you have never slept in a hammock before and want to try it out, I wouldn't recommend spending a lot of money. Get something cheap enough so that you don't end up wasting money and think about choosing one with a stand so that you can move it around.
This way, if you decide you don't want to sleep in it, you can enjoy it outside on the patio, by the pool, use it in the family room for watching tv or take it on camping trips. No matter what happens, you win. At least, that's the way I think about it.

What Happened to Me.
If you're like me, you might even win double… if you decide that you like it so much that you buy another hammock. That's right, this really did happen to me, and it's the last thing I expected to happen.
The thing is, it's like an inexpensive $150 piece of furniture that I can use for sleeping, reading, watching tv, relaxing in the sun, taking on road trips or camping. My friends like to sit in them when they come over, and some of them even want to try sleeping in it (imagine that!). I get my money's worth out of these hammocks.
So, Why Do I Like This Free Standing Hammock Best?

1. This Hammock Makes a Super Affordable Bed!
Yes, this is a low-priced hammock with stand, but it is not cheaply made. The stand is a sturdy steel frame which I expect to last for many years, even though I use it outside most of the time. Later, I saw that it was their best-selling hammock. It didn't surprise me.
2. The Hammock "Bed" is Double Wide
Because the Vivere is designed for 2 people (and supports about 400-450 lbs), it's extra wide. This makes it extra supportive for one person sleeping, since the sides curl up making the bed feel secure.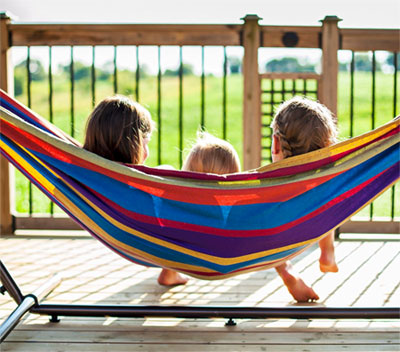 Yet, at the same time, it allows plenty of space for moving around to find your ideal sleeping position. And yes, you can comfortably sleep on your side in a hammock.
The extra width also lets you sit in it comfortably sideways (in addition to sleeping in it lengthwise). It provides a deep seat that is nice for swinging in. Even several kids can get in it at the same time.
3. The Hammock Stand is Included
This is a nice bonus because then I didn't have to figure out how and where to hang the hammock. The frame goes anywhere (assuming the space is at least 10′ long x 4′ wide).


Not only that, but the stand itself only weighs about 30 lbs and can be de-constructed (no tools needed) in approximately 5 minutes and packed into a convenient carrying bag with the folded up hammock. And yes, the carrying bag comes with the hammock and stand package.
I love this, because if I am not using that hammock, I can easily stick it in a closet where it won't take up space. The carrying bag also makes it super portable for taking on road trips.
4. A Hammock Designed for Sleeping
This is a Brazilian style hammock, which are great for sleeping. The fabric is cotton, so it's comfortable, breathable and doesn't leave criss-cross rope marks all over your body.
The dimensions of the bed portion are 63″ wide by 94″ long, so it's plenty long enough to accommodate a sleeper over 6 feet tall. As I already mentioned, the extra wide size makes it easy for a single person to move around without feeling claustrophobic.
This Sleeping Hammock is Super Comfortable!
5. It Doesn't Take Up Lots of Space
As far as hammocks go, this one doesn't take up much space. There are 2 reasons for this.

First, the Brazilian style bed folds flat when not in use because it doesn't have the wide wood spreaders keeping the bed open. Second, the stand is designed to provide maximum sturdiness without taking up much floor space (check out the picture).
These factors make this standing hammock easier to set up because it it more versatile. It also won't make a small room look cluttered because it is so compact. Plus, if you need more space, just take the hammock off its stand. Because the bed is attached to the frame on 2 hooks, so you can detach the bed from the frame. It takes only about 10 seconds.
6. You Can Wash this Hammock!
You can't just throw the hammock in the washing machine. However, you can hand wash it with a mild detergent or soap if you get dirt or spills on it. I always prefer to have easy-clean furniture in my home, even if I don't plan on spilling anything on it. You know how life is…
7. You Can Select a Different Hammock Fabric if You Want
If you want to use your hammock outside in the sun or simply leave it outdoors year-round, you don't have to choose the cotton fabric. You can get polyester and Sunbrella fabric options as well.
The Polyester resists fading and also resists mildew and rot. The Sunbrella fabric has the highest durability, holding up to outdoor weather year after year. It also resists stains and keeps its vibrant color without fading. No matter which fabric you choose, you don't have to give up softness or comfort.
Note: Sunbrella beds measure about 9″ narrower than polyester and cotton versions, measuring 54″ wide and 95″ long.
Click here for the Vivere Double Hammock with Frame