Step 1: A Good Night's Sleep
If you want to get a hammock bed for sleeping, the first priority is to find one designed for optimal sleeping and comfort. As I've mentioned here, Brazilian style hammocks are ideal for a good night's sleep, as well as camping hammocks.

Step 2: Going for Style
Secondly, if you are shopping for a bedroom hammock to sleep in year-round, you probably want something that is stylish and good-looking, in addition to being comfortable and functional.
In many cases, this takes camping hammocks of the list – although not always. Most camping varieties are so lightweight and compact that you can easily take them down during the day and stick them in a closet out of the way.
However, if you want a more permanent "bed" that stays hanging all the time, there are Brazilian hammocks that have more style and sophistication to them.
Step 3: Stand or No Stand
Thirdly, think about whether or not you want or need a hammock stand. The space you have available or the dimensions of your room may decide this for you. Typically, if you want to use a stand, you will need to allocate a 10′ x 4′ footprint in which to use the frame.
Should You Get a Stand for Your Indoor Hammock?
Here are some things to think about:
A stand offers the advantage of portability, if you want to move your bed outdoors or take it traveling. Attaching your hammock to wall beams or ceiling rafters takes up no floor space and can easily be positioned in a corner out of the way – and you don't need to purchase the frame.
With those factors in mind, here are some photos and ideas for a good indoor hammock bed (or outdoor for that matter) that are functional, look cool and won't cost an arm and a leg.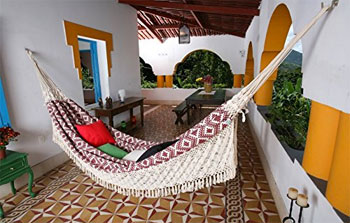 XL Wine Jacquard Handwoven Brazilian Hammock
As you've probably already figured out by the name, this hammock is big. In fact, it's wide enough to fit 3 people if you want.
It's completely hand woven, and the side fringe will add another dimension of style to your room.
Weight capacity: 400 lbs, Overall length: 13″ 9″

Vivere Brazilian Style Double Deluxe Hammock
If you want a lighter, neutral color (or one you can dye to the shade you want), this fringed style works well with virtually any type of home decor.
It can even work in a more formal room or a casual, laid back space as well.
Weight Capacity: 450 lbs, Overall Length: 14′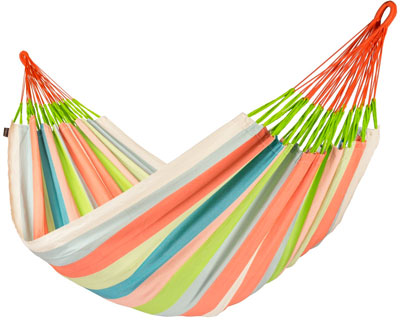 La Siesta Domingo Colombian Weatherproof Family Hammock
This weatherproof hammock comes in 3 fun striped colors: coral dolphin and plum. It feels and looks like cotton, but it is designed to hold up well outside too.
It's perfect if you want a sleeping hammock for both indoor and outdoor use – or simply if you want something fun and colorful. And (BONUS!) It's machine washable.
Weight Capacity: 440 lbs, Overall Length: 13′ 1″

La Siesta Brazilian Organic Hammock
Here is another festive hammock with decorative fringe and macrame netting that gives it more of a tropical look.
The bed contains organic cotton with a stretchy, diagonal weave. It's also machine washable!
Weight capacity: 335 lbs, Overall length: 11′ 6″
Whether you are going for a shabby chic look, eclectic decor, industrial loft style or your home has a contemporary feel, there are a variety of hanging bed styles to choose from.
Helpful Information for Indoor Hammock Beds: